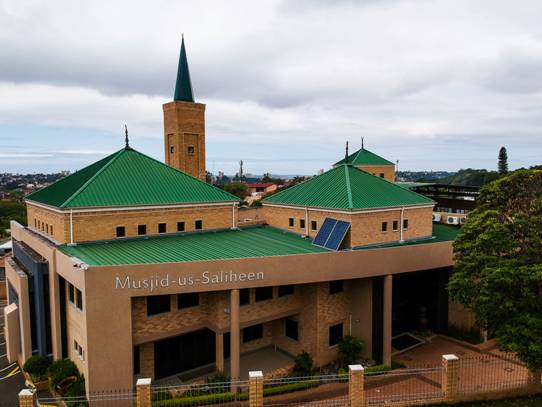 It was in 1993 that a small group of Elders in the Muslim community purchased a house at 92 Harris Crescent in Sherwood for the purpose of establishing a Maktab and Musalla. This property adjoined the Sherwood Park. The Elders envisaged that part of the large park could in future be purchased from the Durban City Council to build a proper Madrasah and Musjid.

Al Hamdu Lillah, with the help of Allah SWT and the vision and foresight of the Elders of the community, the Maktab and Musalla was established in 1994, despite many objections from the mainly White residence of Sherwood. South Africa was just coming out of the apartheid era with democratic elections planned for 1994. Muslims were purchasing properties in the area and their population was increasing.

The Maktab had about 40 students and classes were held in the afternoon. The first Taraweeh was performed in the Musalla in 1994.

Al Hamdu Lillah, Hifz classes were started with about 15 students in 1996. Minimum renovations were made to this house to accommodate the Musalla, as the vision of a new building in the future was foremost in the minds of the Elders.

Al Hamdu Lillah, In 1996, a Madrasah for Muslimaat (females), Islahul Muslimaat, was also established. There were about 40 girls attending this school at inception. The Maktab continued to be held in the afternoon, catering for boys and girls and the hifz classes for boys also continued in the same premises.

To Accommodate the increasing numbers, steel containers and Wendy houses, modified as class rooms, were used. The Musalla catered for about 40 people, with others using the classrooms. A PA system was used in the Musalla and the class rooms. During Taraweeh, the courtyard of the house was also used.

Despite the cramped situation, the Maktab grew and more people attended the Musalla for Salaah. Fajr, Maghreb and 'Isha Salaah were held in Jama'ah. This arrangement continued until 2009.

Musjid-us-Saliheen was officially opened at the end of June 2011.